Hey guys and welcome to the last and final week of the New Year, New Room Refresh Challenge hosted by the wonderful Stephanie from Casa Watkins Living. Before I go head deep into sharing my reveal for my his/her cigar lounge inspired walk-in closet and accessory closet, I just wanted to say thank you for all of your support and patience with me while I worked on this project. I know I shared a whole bunch of teasers and I move as slow as a turtle when I work on project, but I am so happy to have y'all cheering me on in my DM's….Thank You! Also, thank you to all the sponsors who collaborated with us on this challenge! Okay, back to the closet…Get ready for a whole bunch of pictures! No lie…I brought SEXY back!
This is sponsored post done in collaboration with the brands listed below. All thoughts and opinions are mine and mine alone. This post may contain some affiliate links.
His/Her Shared Master Walk-in Closet
This closet was tricky in configuration because nothing shared the same center. I centered the shoe shelf with the ceiling so that the light can line up with shelf and look visually appealing. The shoe shelf is the only shelf in here that was purchased at the store, everything but the campaign pieces were built-in.
I shopped my house and styled my husband's dresser using items he already owned. Those horse "thingy's" in the vase are dress shoes accessories that I purchased a while back at an estate sale. The mannequin and vintage signage art I downloaded for free. Who does not like free art?
The wooden hangers for this space were purchased on Amazon. They all had great reviews and was the trigger to me purchasing them online  versus in-store….Oh, and they were inexpensive. Damn, that closet is one hell of a sexy beast!
Now tell me, how sexy is that Luxurious paint color from Velvet Finishes? Sexy, right? Now you see why I just love it so much?
The wallpaper ceiling was something I was really excited about, It looks great in the space and adds a touch of femininity to the space. I knew from the very moment when I saw this wallpaper on Wallpaper Boulevard, that I wanted it for this space. It is gorgeous!
The light fixture is a Possini light fixture (They are currently out of the fixture I have, but here is a similar one) from Lamps Plus. I originally was eyeing some MCM fixture, but this one I feel like worked better with the vision I had.
Ring art found, here.
You can view my simple DIY to upgrading a plain mirror, here. The velour hangers used on my side of the closet you can find here…They are MAGIC… with great reviews!
The mister said he wanted a stool…Here it goes! I love unique art and so I sourced out Unsplash and went crazy! Mannequin female head, here and the picture of interiors, here.
Accessory Closet
Here is a before picture of my accessory closet aka bedroom alcove. This area is pretty self-explanatory. I took the alcove in my room and decked it out with feminine goodness!
Wallpaper is from Anewall. I was offered the wallpaper from their Demure line called Ambroise, it works perfectly with what I have going on. I love the print and moodiness. It adds to the all white atmosphere that I created outside of the alcove…BE ON THE LOOKOUT FOR MY MASTER BEDROOM REVEAL….COMING SOON!
Basically, take what you own style it and make it look pretty. It does not take much to decorate. I used what I already had and added on to it and styled it by color and texture.
Who has a ton of shoes?…I do. I am not by all means a "name brand" type of chick…I simply do not care. If I have anything name brand, my mom or sister bought it for me…unless I liked it myself and purchased it secondhand.
Style by color, if you collect things create a vignette by gathering same and alike items.
The light fixtures did not make it into the space like planned due to the current pendant fixtures hooking up to a recessed canned light. It is fine, I will just use them somewhere else in my home.
This brass caldron is my one of my favorite thrift finds. I purchased it with a fake arrangement…I just wanted the caldron, not the flowers!
Voila, there you go! I hope you enjoyed this tour of my closets! Be sure to come back for my Master Bedroom reveal!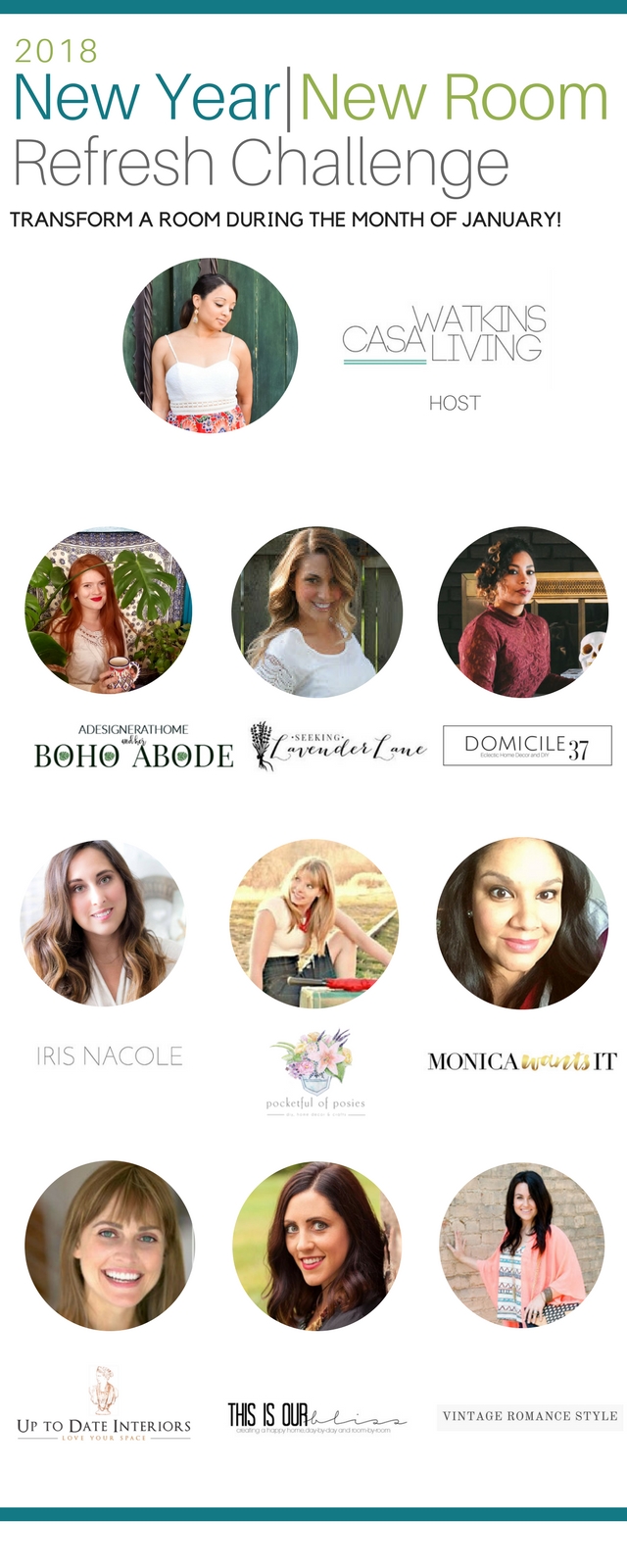 Casa Watkins Living // A Designer At Home // Seeking Lavender Lane // Domicile 37 //  Iris Nacole // Pocketful Of Posies // Monica Wants It // Up To Date Interiors // This Is Our Bliss // Vintage Romance Style
A HUGE THANK YOU TO OUR SPONSORS!!!