Hello peeps! I hope you had a wonderful holiday. If you haven't read my New Year's post, you can find it, HERE. Also, starting this week I will be launching a new Instagram hashtag, so make sure that you are following me on Insta for all the good deets about that! Today, my focus is on the New Year New Room Refresh Challenge hosted by the one and only, Stephanie from Casa Watkins Living. This will be the third year that I have participated in this challenge. This year, I will be giving my closets a so-called "refresh." Haha! I have two closets I will be working on, the open closet (alcove) in my room and my shared walk-in closet.
So guys, this is my side of the closet. I hate coming in here because it is so not functional to our needs. Most of my clothes are in my room in a couple of boxes along with my shoes and bags…yep, I am still living out a box.
At the moment, this is the mister's side of the closet. His clothes are also on my side. I am convinced that if we hang any more stuff on those weak rods, they will break.
Before I go into the plans, I just want you to know that upon request from the mister I was told that I can do whatever to the closet as long as I do not cover up or paint over the cedar planks. With this little note, I decided to go the masculine route for this room and pair it with my favorite (not really) color…BLACK! haha! I bet you saw that coming!
Also, I was sitting here like…Do I share the plans first or show my ugly closet?…I went with the latter.
Shared Walk-in Closet Plans
Okay, let me break down my plans for you. I created this vision board during the Summer and revised it by switching out the flooring and adding art. I plan to use campaign dressers that I already own and paint them black to create a built-in look. I want to pull up the carpet and add tile, in this case, vinyl peel and stick tile to the closet. We have a crawl space underneath and if I add "real" tile, it would make the door extra heavy. I have a vintage Persian throw rug that I will be using in this space. To brighten up the space and add a bit of fun, I would like to wallpaper the ceiling with wallpaper from Wallpaper Boulevard.  Not sure if you can see in the above pictures, but I have popcorn ceiling. I plan to do a little DIY to make my ceiling idea happen. I plan on using Mid-Century pendants from Lamps Plus.
Before I go deep into explaining this area, I just want you to know…I do not have split personality, my house does. This next area that I plan on working on for this challenge is this little/big alcove that use to house our bed. I plan on turning this area into an open accessory closet…AND to center those fixtures. Whoever installed those pendants did a horrible job.
I have built-in shelves on both sides of the closet, so I will use this to house bags???? Not sure yet…but they will get used! By-the-way, how white can that white be? Man, it is BRIGHT! It is so bright it is making that blue look good. It is the same white in the hallway and I am convinced once I pull the carpet and add the black floors it will create the same mood that I am rocking in my family room.
Accessory Closet Plans
I reached out to Anewall and received this awesome mural that fits into my master bedroom plans perfectly! For  this space, I plan use this as an accessory closet. I have a campaign dresser with a shelf that that will sit in the middle of this space. When it comes to this alcove, it will be more temporary due to the fact that we still have to pull up the carpet.
If and only if I can get my act together and knock out the closet DIY's early, then I can add my master bedroom to this challenge so you can see the whole picture. Well guys, I am off to work on my room. I will be doing this in real time so wish me luck to getting it all finished on time. EEeeek!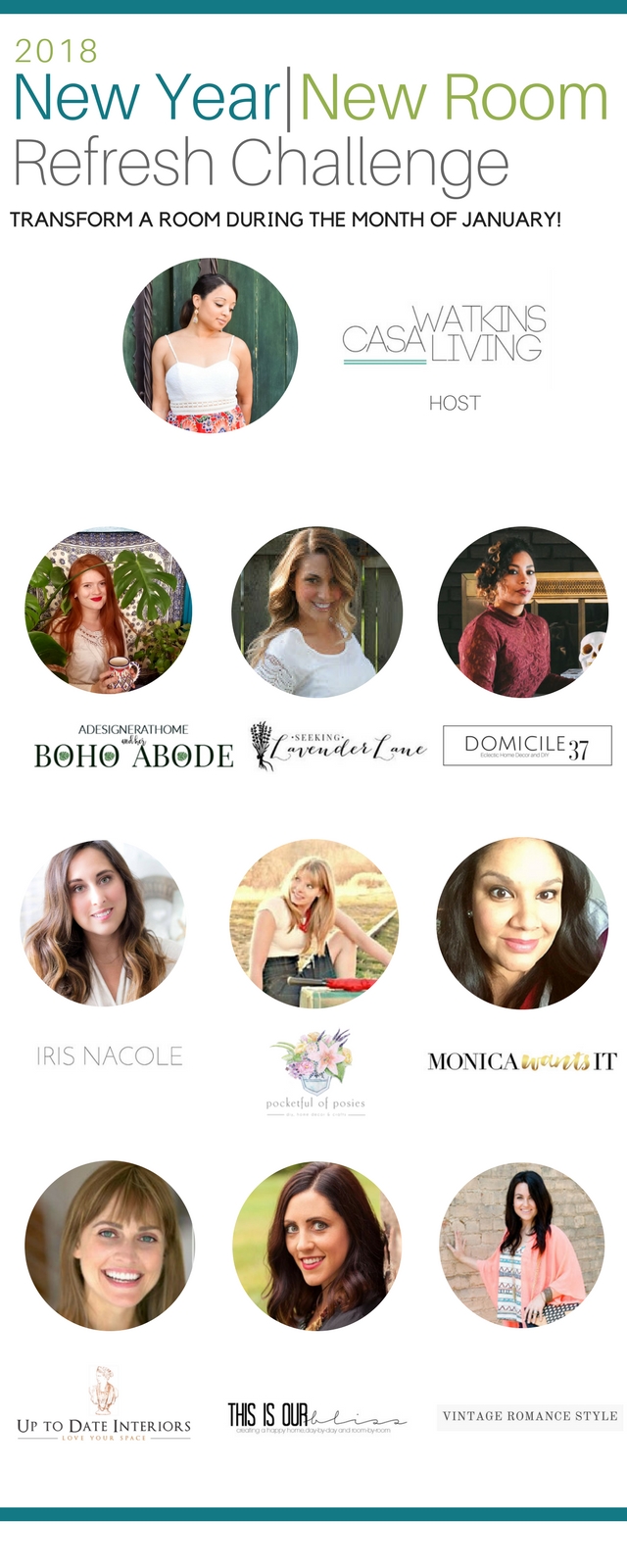 Casa Watkins Living // A Designer At Home // Seeking Lavender Lane // Domicile 37 // Iris Nacole // Pocketful of Posies // Monica Wants It // Up To Date Interiors // This Is Our Bliss // Vintage Romance Style
Now, it's your turn! Link up your own room progress below. We would love to see them!
* Please do not link up any posts not related to the New Year New Room Refresh Challenge. *