We are on day dos of the My Home Style: Christmas Tree edition hosted by Stephanie from Casa Watkins Living and I am about pooped with everything. If you are coming over from Boxy Colonial, WELCOME!  Sorry to leave  you on the word, "pooped" but I was about to explain how…I have a little bit more holiday decorating to go and some holiday parties to attend this week but I think once I close out my Winter Eclectic Home Tour my Christmas decorating should all be complete! Yay! Did you catch what I just said…Winter Eclectic Home Tour….if you missed my post, you just may want to check it out! I have a full list of the nineteen fabulous participants who are showing how they make magic in their home for the season. Back to the tree hop…I know I shared a bit of this space with you (HERE)  but I barely mentioned my tinsel and gleam vintage inspired christmas tree, so today, we are going to do just that!
So here is our main tree and all its glory. I really wanted a real tinsel tree, but due to popular demand, I could not find one. Haha! Y'all know what is up, eh?…I couldn't find one at the thrift! Haha! I decided to play it cool and stick to simple ornaments. 90% of the ornaments I already owned, I purchased a set of colorful ornaments from my local hobby store, and some other ones from World Market for the Vintage Christmas and DIY Terrarium post I did for them.
Three words that I would use to describe my Christmas tree style this year would be Vintage-inspired, eclectic, and gleam. Everything in my home is always vintage inspired. I have an eclectic taste when it comes to decor, and my tree twinkles and is draped in silver so that is where "Gleam" comes from. Y'all can tell I am so out of it, I am just laying it on you…straight forward, no sugar added! Ha!
I purchased this colorful ornament from World Market. They only had a few in stock and I bought every single one of them. It reminded me of old hollywood for some reason and they are probably one of the most heaviest ornaments I have ever held. They will weigh your tree down, no lie! I do not know what it is made out of, but it is NOT hollow.
Looking at the overall picture of the tree, you do not really gauge that there is a glittered leaf garland in there, but there is and guys…it is STUNNING! My pics do not do it justice. It is freaking gorgeous! The garland complements the icicles and snowflakes quite nicely, if I may say so myself!
I just love how bright it shines! This was another world market buy. All that glitters does shine on my  tree and that my friends is what you call tinsel! This tree may not be over the top or a collectors paradise, but it is one of my favorite tree setups to date. It looks absolutely stunning when lit and reminds me of vintage trees that you have probably seen in your grandparents holiday catalogs.
…And that my friends is our family tree. We have five trees total in our house this season and this was the one that made it to the My Home Style: Christmas Tree edition, so you know it must be special! For more Christmas trees to drool over, head on over to Iris Nacole where her house is literally something straight from a Hallmark Classic Christmas movie and do not forget to check out the other peeps who are participating later in the week.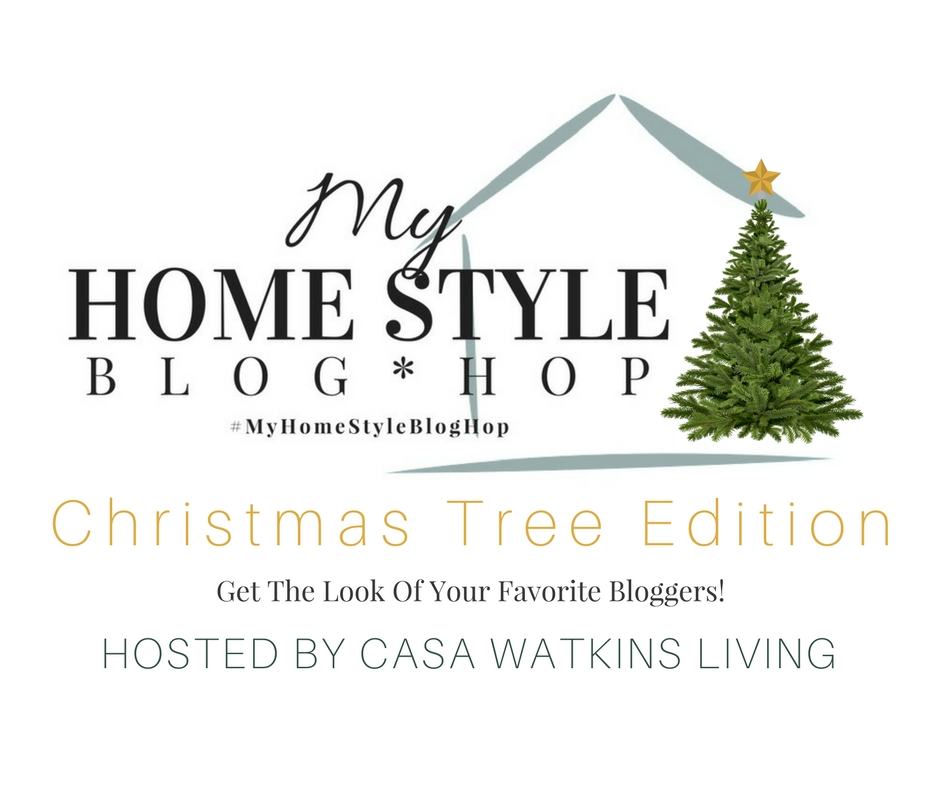 Monday
Tuesday
Wednesday
Thursday
Friday